https://pbs.twimg.com/media/D6ydzeXWkAAOjsr.jpg
Brad Friedel has revealed that he was bizarrely fined for swapping too many shirts during his time at North London club Tottenham Hotspur. Friedel spoke to Ladbrokes about his time at Spurs as he also discussed Harry Kane and his quest to leave Spurs to win major trophies elsewhere.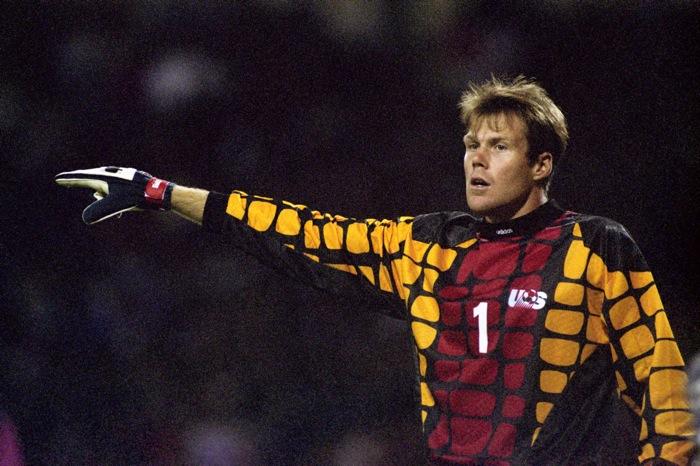 American goalkeeper Brad Friedel disclosed how he was fined for £800 for swapping too many shirts.  According to him, the rule of being entitled to just eight to ten jerseys as a Tottenham Hotspur player was new to him when he moved to the club. Friedel went on to give the reason behind him swapping shirts with Edwin Van Der Sar and others.
Edwin Van Der Sar and Brad Friedel are two of the best goalkeepers in the history of the Premier League. Dutchman Edwin Van Der Sar is the Chief Executive Officer (CEO) at Dutch Eredivisie champions Ajax Amsterdam at the moment and he featured for Fulham and Manchester United during his time in the Premier League. On his part, Friedelplayed for clubs such as Tottenham Hotspur, Aston Villa, Blackburn Rovers and Liverpool in the Premier League.
On swapping shirts often as a Tottenham Hotspur player, Friedel said it was inevitable for him as opposition players knew that he was retiring soon. He played 67 times for Spurs during his four-year spell at the club. 50 of those 67 games was in the Premier League. Friedel was a Tottenham Hotspur player from 2011 to 2015.
England national team skipper Kane wanted to leave Spurs for Manchester City this summer but the Premier League champions were not able to pay the asking price for him amidst Spurs' reluctance to sell him. Kane has since signed a new Spurs deal when it became clear that he won't be able to leave Spurs this summer. On Kane, Friedel said that the Spurs striker won't leave the club mainly because of winning a Premier League title and that he can see him eventually moving on from Tottenham Hotspur.